1. Pemakanan
Amalkan makan kismis, kurma, minum susu dan vitamin yg mencukupi.

Ubat doctor seperti asid folik,vitamin B kompleks,Ferum tablets dan vitamin C jangan lupa makan. Susu Ibu mengandung pun digalakkan minum.aku minum ENFAMAMA perisa choc,setakat ni dah masuk tin yang ke 3.:) susu ANMUM aku baca2 dan orang cakap...tinggi lemak, boleh gemuk.tu aku pilih minum ENFAMAMA.rasa die ok lah,lagipun choc flavor kan..sedap gak:)
selain itu,untuk menggalakkan perkembangan minda anak, kerapkan makan tomato, brokoli, bayam dan batang saderi. makan asam adalah tak digalakkan walaupun sedap makan asam2.
Hmm..ok. mama already take those foods regularly - kismis, brokoli, batang saderi..nyum2
2. Amalan seharian
menurut pakar,
bayi dalam kandungan didapati lebih responsif terhadap suara lelaki daripada suara wanita
..jadi pastikan suami2 anda tahu tentang ini dan berusaha la secara bersama untuk melibatkan diri dalam aktiviti ransangan anak..
Mama already inform ayah regarding this matter. You will be more responsive on daddy's voice compared to mama yer.
Ada beberapa cara utk meransang dan bercakap2 dgn si anak dalam kandungan, antaranya: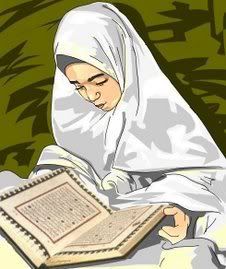 bacakan surah al fatihah, muqqaddam, nombor digit 1 hingga angka 10 dalam BM dan BI termasuk abjad A-Z sambil mengusap perut.
Starting from 6 month plus..i always recite several surah such as Al-Fatihah, Al-Ikhlas, Al-Falaq, An-Nas as well as pronounce numbers in English and Malay, and alphabets while driving to office and on the way back. I also talk to him frequently telling him everything...what i saw, what im currently doing, my wish to him and etc. I dunno the proof of this article yet..but its worth try since i have nothing to lose..
membaca dan memperdengarkan surah Al Quran setiap hari...didapati bahawa bacaan yg sama dan berulang2 semasa dlm kandungan boleh membuatkan bayi anda mengenali irama yg sama jika dimainkab semula semasa berusia 12 bulan
luangkan 5-10 min setiap untuk berbual-bual dgn anak..cerita la apa sahaja dgn bayi kerana pada minggu ke 20-24 bayi mula memberikan tindak balas yg kuat pada bunyi..jadi bayi sudah boleh mendengar suara ibu..ambil la peluang ini utk jalinkan bonding yg lebih rapat dgn bayi anda...
3. Jaga emosi
Anak yg pintar bukan shj pintar IQ tp berjaya EQnya..jadi pastikan si ibu tidak terganggu emosinya semasa mengandung kerana gangguan emosi ibu boleh mempengaruhi ransangan otak bayi..tekanan ibu hamil blh mengurangkan IQ si anak. hmm..tak boleh tensen2 sangat dan terlalu sensitif dan kuat nangis la ni...
Didik anak untuk jadi pintar bukan satu tugas yg senang..perlu konsisten dan kesabaran..dan tidak berhenti setelah anak itu lahir ke dunia..usaha tetap perlu diteruskan..
Antara kaedah yg blh dipraktikkan si ibu setelah anak lahir:
sambil menyusukan anak, ajarkan ABC, 123 dan muqaddam..
sentiasa berbual dgn sebutan yg betul dan elakkan bercakap pelat dgn anak, teruskan bercakap walaupun anak tidak memahami apa yg dituturkan
apabila anak mula belajar utk bercakap, ajarkan menyebut nama Allah

*nama2 dlm asma al husna, ajar secara berperingkat, sebutkan setiap benda yang dia nmpk contohnya anggota badan, makanan dan apa shja objek di dalam rumah..*