Harini awal2 pg aku dh pg Tesco semata-mata nk ambik jamu NR yg ditempah last wiks. Wah..bukan main byk aku shopping jamu2 for confinement. Kebanyakkan brg baby, items for confinement dh dibeli awal2 starting from 8 month. Senang, semuanya dh ade..so x perlu la menyusahkan hubi nk cari brg2 tu kt Kerteh nnti. Lagipun, aku dh buat research dlm internet siap2. Hmm..cuma gamogen jer x bli lagi. Igt nk bli kt Kerteh jer. Barut baby pun kena cari lg dua helai.
Items for confinement (Mommy)
1. NR products - aku bli loose items jer sbb phytonatal, uncang cuci, minyak herbanika still ade lg. Last time aku x abis guna pun phytonatal sbb x pakai family planning. So, this time..aku cuma tempah Akar Herbanika and Krim Barut. Utk barut, aku pakai barut lisa formula sbb panjang & blh fit body smpai ke pinggul. Selain tu aku dh prepare set bengkung beautiful:)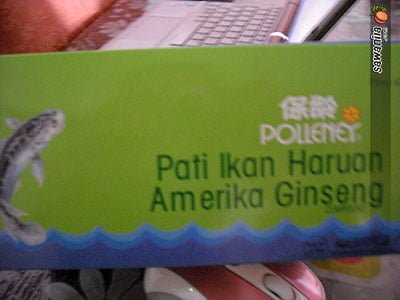 2. 3 kotak Pati Ikan Haruan - 2 biasa, 1 American gingseng essence - utk luka2 episotomi
3. Pil ikan Haruan (Leesa Formula)
4.
Jamu Mak Dara
- Consume after 7 days of birth - menambahkan tenaga, mengecutkan rahim
5.
Madu Khaula
- untuk menambahkan tenaga
Amalan menyukai dan memakan madu merupakan amalan Rasulullah S.A.W. Madu lebah menjadi penawar untuk berbagai penyakit seperti dinyatakan di dalam Surah An-Nahl Ayat 68-69. Jadikanlah ia satu amalan harian kita semua. Wallahu'alam.
Haa..byk kan. Nak kurus punye pasal..hihi. Utk pregnancy kali ni mmg berat aku agak naik la jg sbb doktor dh pesan suruh mkn byk sikit. Doktor ckp mkn benda2 yg berlemak sikit. Elok untuk perkembangan baby. Last pregnancy nk consume nasi pun susah, so utk pregnancy kali ni..for the sake of our baby..aku consume sekali sehari. Tp malam still x leh mkn byk..slalu blk jer opis, rest..mkn epal ke..anggur. Then, sebelum tido, minum Higoat.